Corrugated metal may not be the first thing that pops into your mind when thinking about an attractive accent for the yard. But as our post highlighting corrugated metal planters showed, corrugated panels can be used for more than just industrial utility. A quick run through the interwebs shows that builders all over the country have gotten creative with corrugated metal by employing it in their fences.
There are countless ways to build corrugated metal fences. Natural wood tones complement the metallic tones and, of course, you can always have your panels coated with vibrant painted finishes for a more colorful look.The panels are only painted on one side, unless a large bulk order is placed. See available colors here.
Stainless steel panels will resist rust and wear, while unfinished metal will form a patina as the seasons move on, adding its own unique character.
Benefits of Corrugated Metal
Corrugated fences bring all of the benefits of metal roofing and siding to a new application. Unlike wood, these materials don't need to be stained and treated periodically, meaning you've got a totally maintenance-free fence that will remain attractive and functional year after year.
Depending on your or your client's tastes, the fence could be built with a modern flair or in a more country style. Combine the metal with wood and other materials to bring out the most character in your finished product. Buying in bulk is always suggested as it leaves room for errors to be made. What if there are left overs? Use them to add matching touches throughout your home! A few examples are build a shed, bedroom, interior accents or a custom planter.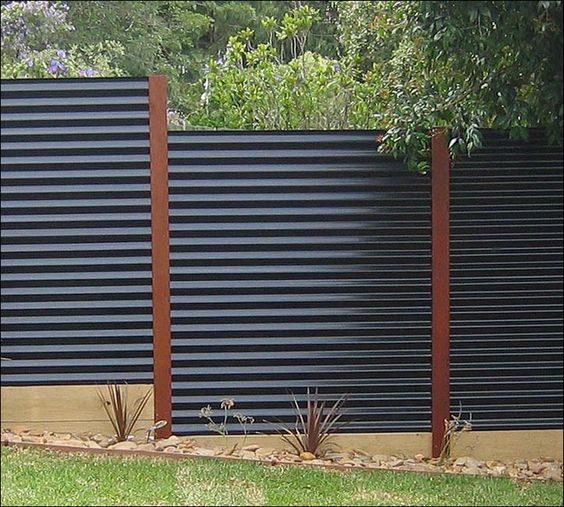 Corrugated metal is lightweight and far less expensive than many types of wood. Remember to sink your fence posts to around 18 inches deep, and always make sure it's safe to dig before beginning.
Homeowners can find a ton of inspiration for custom corrugated fence posts on Pinterest, and see just how versatile these building materials are.
Things to know before placing an order: 
The panels are only painted on one side, unless a large bulk order is placed.

There is a minimum order requirement.

Only the metal panels are supplied (posts and/or fence kits are NOT provided).
When you're ready to order, or if you have more questions about what types of corrugated metal would work best for your needs, give our expert representatives a call at 732-276-1021 and get the ordering process started! We take pride in providing prompt delivery, precision-made produces, and friendly service.