Corrugated Metal Fabrication Shop
Benefits of Our Custom Shop
If you need custom built corrugated metal roll formed to exacting specifications, look no further. The experts at The Creative Building Supply's metal fabrication shop fill orders for builders and contractors across the country.
Our shop fabricates everything from trim work and custom form metal flashings to massive corrugated steel panels for roofing and siding projects. We work with a variety of gauges and substrates and offer several finishes for the longest-lasting products available.
Precise Sheet Metal Fabrication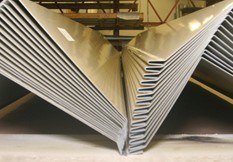 Our shop utilizes cutting-edge equipment to custom roll form your materials to exacting specifications quickly and efficiently. We have the capability to save the specifications of an unlimited number of flashings and panel profiles. That means we can make more materials rapidly available for your ongoing projects.
The Ras XXL utilizes computer controls to determine the point and degree of each bend automatically for the most precise and consistent results. That means identical panels come to you for the easiest construction process and most accurate results.
We'll work with you to ensure the product we deliver is built to the exact specifications you need to get the job done. From the depth of the corrugation to the finish on the material, we make corrugated metal that's ready to stand up to tough tasks.
Faster Lead Times
By keeping the entire fabrication process under one roof, we're able to bring your finished product to you with incredible speed and efficiency. When you order a custom roll-formed panel from CBS, you'll be able to follow the entire process from start to finish. This means our experts are on hand at all times, for the best results and most controlled process. Our fabrication shop creates corrugated sheets and metal panels for contractors, manufacturers, and countless builders looking for the roll formed panels of steel or aluminum.
Roll Forming Capabilities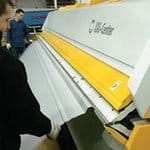 Our shop can custom fabricate sheet metal from 26 gauge to 10 gauge, with certain limitations for heavier gauges. We can manufacture sheets and flashings up to 20 feet long. We've made panels for both huge job sites and small, one-off projects, and we take pride in providing precise products for every customer.
We can work with substrates and finishes that make panels ideal for a variety of applications. From galvanized and Kynar painted panels, to stainless steel finishes, our fabrication shop works with everything your job could need. You can learn more about the finishes we work with here.
What Next?
If you've got a job that will require corrugated metal to be custom roll-formed, call us today. We'll run through the materials you'll need and the best way to bring them to you. We are located in New Jersey so if you are a close neighbor in New York City, or Pennsylvania you can pick up, if not we ship worldwide at great rates!
You can reach our team of experts at 732.367.6333, or fill out our contact form so we can learn more about your needs.