Perforated Sheet Metal Panels
Custom Perforated Metal Panels by Creative Building Supply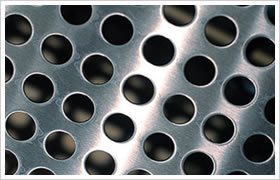 CBS specializes in superior perforated metal panels and offers custom metal forming in a wide selection of options featuring patterns available in aluminum, stainless, and galvanized.
Perforated metal is used in a variety of applications and industries including air diffusers in the HVAC market, acoustical panels for noise control, as filter media or support in the water filtration industry, and as architectural elements in building construction. The uses of perforated metal are unlimited. If you have an application that requires control of light, sound, air, water, or particles, perforated metal might be your solution.
High Quality Perforated Metal Panels
Perforated metal panels can be finished with a variety of coatings to enhance its appearance or increase its longevity. Perforated metal is a highly sustainable material as it lasts generations without needing to be replaced. Perforated metal can be produced with recycled material and can also be completely recycled when its usefulness is over. With our custom fabrication shop, CBS can produce a wide variety of perforated flat sheets or coil into the custom panels you need. Virtually any panel can be perforated.
Perforated Stainless Steel
Our perforated metal panels come in a variety of gauges, finishes, and substrates. A popular choice is perforated stainless steel, which is incredibly strong ,resilient, and attractive. Not every shop is capable of working with the variety of materials we are. That's why we work hard to provide a wide selection and separate ourselves from competitors. Our precision machines and expert crew can fabricate perforated stainless steel sheets and more with minimum lead times for projects of any size.
Perforated Metal Decking
Perforated metal decking features a flat-top rib profile, and can be fabricated in a variety of profiles to best suit your needs. Give us a call to learn more about our capabilities and discover the perfect option for your next project.