Stainless Steel Corrugated Metal Panels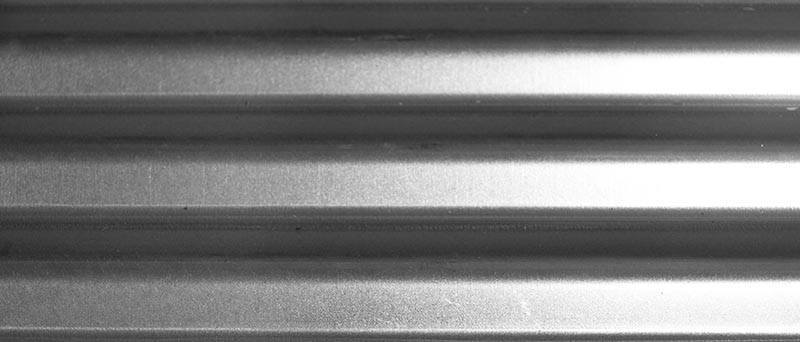 High Quality Stainless Steel Corrugated Sheets
At Creative Building Supply, we work with a wide variety of substrates and finishes. A popular choice for a broad range of applications is stainless steel corrugated metal. Available in several gauges, our stainless steel sheets can be roll formed into corrugated patterns for internal and external uses. Whether you're looking for a couple sheets of corrugated stainless steel to finish off a DIY project, or you need a bulk order to tackle a full-scale construction project, we have a huge stock of panels as well as the ability to fabricate custom orders with minimal lead times.
The Benefits of Corrugated Stainless Steel
Corrugated stainless steel panels will hold up against the harsh effects of rain, ice, sun, and snow. This means that, for external applications, you'll have a consistently attractive surface year after year with minimal upkeep necessary. This corrosion resistance is paired with the high strength of steel, meaning you can rest assured that your corrugated floor decking, roofing, or siding will be sturdy enough to hold up against serious stress. If you're looking for low-maintenance, good-looking corrugated panels, consider stainless steel as the option for you.
Stainless Steel Roofing Sheets
One of the most popular applications for stainless steel corrugated panels is as roofing. The extreme resistance to weather and high strenght combine to make an ideal material to keep the weather out and provide strength and stability to a wide variety of structures. Our various corrugating patterns give you the flexibility to choose the ideal panels for your application. With modern design trends, corrugated steel roofs are no longer only seen in industrial applications. Builders are finding this material can be used in a wide variety of building types while still maintaining a beautiful aesthetic and unparalleled function.
Take a look at the various types of Corrugated Metal Panels we keep in stock and custom fabricate at Creative Building Supply. Our experts can help you calculate sizes, choose the ideal pattern, gauge, and substrate, and get you the perfect order in time for your next job.